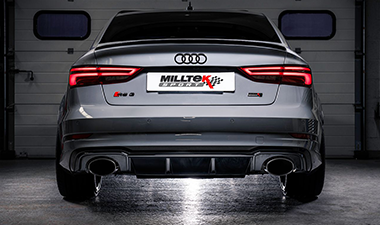 We now offer both direct sale and supply and fit services for the full range of Milltek Exhaust systems.
For those that haven't heard for Milltek.  Founded in 1983 by a true car enthusiast, we have grown to become one of the leading manufacturers of performance exhaust systems for a continually growing range of vehicles.

With headquarters in the UK and a development & testing centre at the iconic Nürburgring, Germany; we design, develop and test our range of exhaust systems in-house using state of the art equipment, such as the latest All Electrical CNC Mandrel Tube Benders and Faro 3D Laser Scanners, which combined with one of the most experienced teams of Engineers and Production Staff in the industry, allows us to continue to be the first to deliver market products and innovative designs.

Everything we design and produce is only ever made to one quality - and that has to be good enough for the most demanding of customers, our race teams! To fully understand the demands and expectations of the demands and expectations of the motorsport industry, we have over the years fully immersed ourselves within motorsport, and competed in some of the most gruelling races and championships in Europe.

We have developed vehicles and exhaust systems for Milltek Sport Racing to compete with in series inclusive of the British Touring Car Championship, the Volkswagen Cup, Time Attack, VLN and N24. Through our own experiences we have been able to come to understand how to manufacture to the exacting tolerances and peerless quality that the world's leading motorsport teams and manufacturers require.

For the past few seasons we have supported race series that we no longer directly participate in by becoming Technical Partners to a number of competing teams, and working closely with them to develop new products in order to continue the evolution of our motorsport understandings. For a number of seasons now we have been Technical Partners to Power Maxed Racing and BMR in the BTCC, which allows us to not only evolve our own understandings but also our motorsport products to the ever-changing requirements of the industry.

All of our performance exhaust systems are manufactured from T304L stainless-steel; giving you the satisfaction of knowing that our products are meant to last within some of the toughest environments. T304L is a highly durable form of stainless-steel that is far less susceptible to degradation and discolouration than many others of its kind, while it will last almost indefinitely.

Our devotion to the perfection of our exhaust systems is what has enabled us to become accredited to ISO9001:2015 as well as being able to accomplish one of the widest ranges of EC Approved performance exhaust systems, all tested and approved by TUV in Germany. This, combined with our comprehensive dealer network, delivering to more than 95 countries world-wide continues to make Milltek Sport one of the most accessible brands in the performance aftermarket industry.
We are truly delighted to welcome this brand to our Business and hope for a long successful happy relationship with yet another key partner in our Business.